DC-3's find new life in New Zealand
Halfway between Taupo and Wellington, there is a famous DC3 aeroplane hanging over State Highway 1.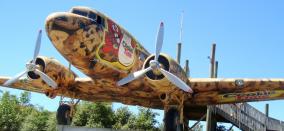 ZK-APK has many faces over the years. First landing in Mangaweka in 1986, she had the colours of her previous top dressing job. Then in early 2000, she was painted with cookies, long holding the fun name of "The Cookietime Plane".
She now sports the Blue and tan Mangaweka Adventure Company regalia, in an attempt to restore her dignity reminiscent of her service as an NAC passenger liner.
No need for take out!
Photo source: HotSpot Media
Forget the drive-thru, you can eat your Big Mac and fries at an air-mazing McDonald's restaurant on this decommissioned aircraft.
For the last 27 years the disused DC-3 plane has been parked beside the McDonald's restaurant in Taupo, New Zealand.
The grounded passenger plane, with its refurbished red and silver interior and seating for 20, is very much a part of the restaurant and customers can enjoy their meal within the comfort of the cabin.
Source: Daily Mail